2013-12-01 First commercial electric volocopter
At the Brussels Fablab, we're always interested in technologies that contribute to wiping the millions of deadly and polluting cars surrounding us from the face of the Earth. The VC200 volocopter is one such development worth mentioning. After their succesful first flight in 2011, the team behind the genious idea of extrapolating common quadrotor technology to a large scale design now presented the maiden flight of the VC200.

-Yannick

2013-11-30 Arduino Reference Poster
Element14, Elektor and its associate Circuit Cellar have released a neat Arduino reference sheet in poster format, perfectly suited as a quick aid to those starting development on the Arduino platform. Download your copy for free (beware, it's 56 MB -- download low res version instead).

-Yannick

2013-11-28 RapidPRO 2014

RapidPRO 2014 has officially been announced, and will again take place in Veldhoven, near Eindhoven, The Netherlands. The exposition can be visited free of charge, but registration is mandatory. New this year is the split between the professional section, and a seperate part dedicated to home and hobby users of rapid prototyping technology.

-Yannick

2013-11-26 3D PRINTING LITHIUM ION BATTERIES
Recent 3D printing technology advancements could allow Li-Ion batteries of near arbitrary size to be prototyped using 3D printing manufacturing techniques, as demonstrated by new Harvard research. This would open up interesting new opportunities for custom battery packs in energy harvesting as well as mobile robotics applications.

-Yannick

2013-11-24 PROGRESS IN PLASTICS: 3D PRINTING
Our fablab is proud to host the next Crosstalk, chaired by fablab crew member Stijn! Interesting talks on sustainability issues, policies, technology challenges and intellectual property considerations are scheduled to start at Thursday 28/11 at 2 pm.

-Yannick

2013-11-20 CREATIVE SCIENCE
Even NASA doesn't always take Science too seriously...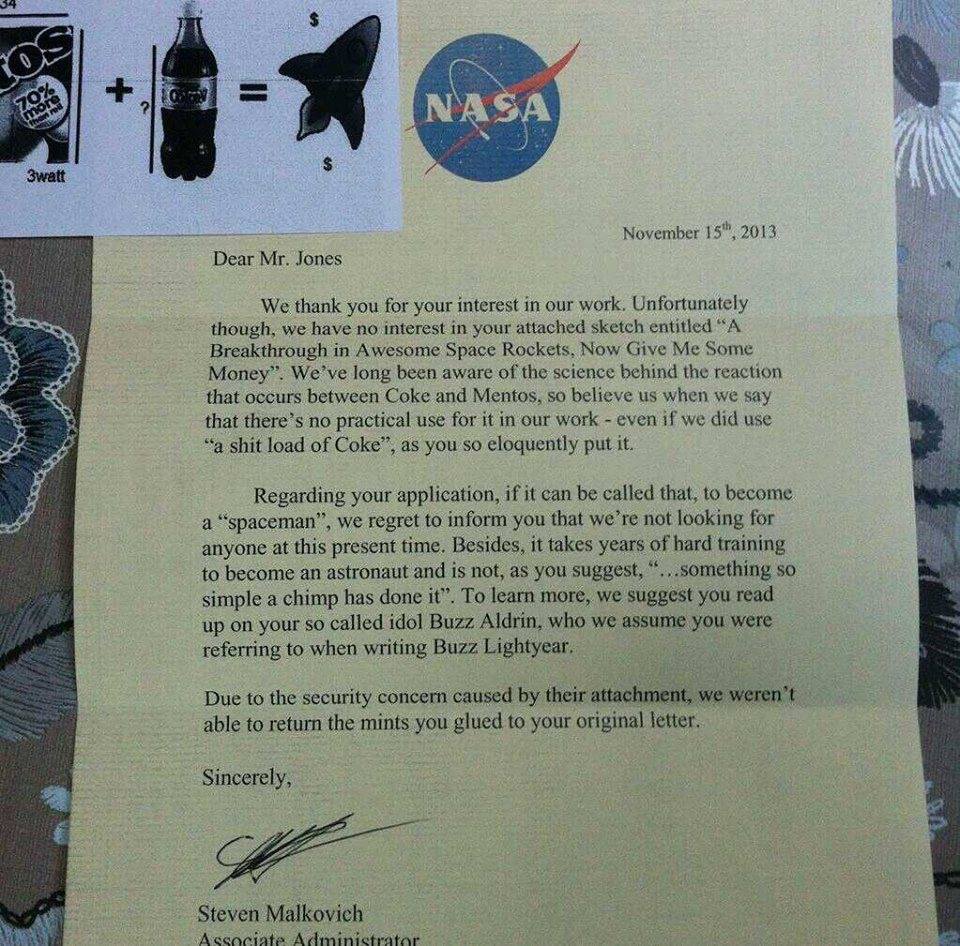 -Yannick

2013-10-18 OPEN SCIENCE: SCIENTIFIC INTEGRITY
Wikipedia co-founder Jimmy Wales has earned himself a strong reputation in the open science and information access community. On October 24 he will visit the VUB to give a lecture on scientific integrity, and how to prevent fraud using open access principles to improve information exchange. Participation is free of charge for VUB students and reseachers, but registration is mandatory. A delegation of our fablab will also attend this conference, we hope to see you there!

-Yannick

2013-10-11 STACKABLE ELECTRONICS STORAGE
Laurent ingeniously solved the electronic chaos that has been taking over his desk for months by designing custom stackable and modular storage elements with the exact right height for bread board prototypes, multimeters and assorted electronic tools. Feel free to drop by in the lab and make your own on our laser cutter!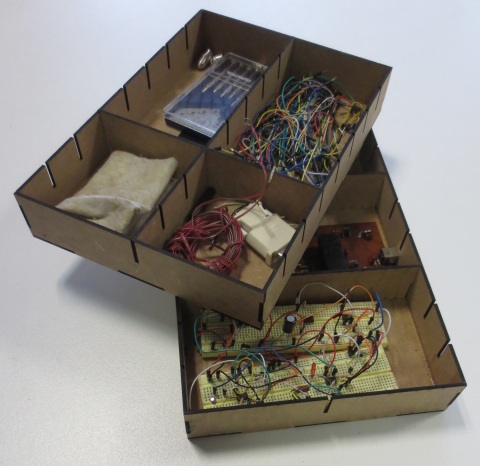 -Yannick

2013-10-10 NETWORK FIX FOR ALTIUM DESIGNER
Some Altium Designer users have been unable to login to Altium Designer due to a seemingly random network problem. As it turns out, virtual network adapters like Tunngle, VirtualBox and Teamviewer interfered with Altium Designer, causing these login issues. Disabling the corresponding network adapters solves the problem.

-Yannick

2013-10-01 DESIGN AUTOMATION & EMBEDDED SYSTEMS
On Wednesday 9th October, the 2013 edition of the conference Design Automation & Embedded Systems will be held in the Brabanthallen in 's Hertogenbosch, The Netherlands. Many industrial and academic institutions will be giving presentations on their specialized fields. And the best of all: free entrance tickets are available thanks to the generosity of leading circuit board manufacturer Eurocircuits. So make sure to visit their booth!

-Yannick

2013-09-30 PHOTONS SHOWN TO INTERACT
After the discovery of the Higgs boson only months ago, physics is confronted with yet another remarkable breakthrough as researchers of Harvard and MIT have demonstrated that under extreme conditions, individual photons can be shown to interact with each other. This contradicts most known theories about photons, which all assume photons are charge and massless, and thus have no way of interaction.
It goes without saying that our fablab is closely following any further developments in this field, as the discovery may ultimately result in the ability to construct quantum computers and, more importantly, lightsabers.

-Yannick

2013-09-28 3D PRINTING IN SPACE
The two main factors making space exploration as expensive as it is today, are the costs to launch a payload into orbit, and the efforts to design this equipment so that it survives its harsh journey through the atmosphere. Both problems could be solved by manufacturing equipment in space using extraterrestrial 3D printing techniques. The technology aims to make space exploration faster and cheaper in the future.
If you'd like to suggest some ideas for objects that can be made in space as a test case for the technology, you can submit them here.

-Yannick

2013-09-26 FREEDOM NOT FEAR 2013
While the aftermath of the hacking indicent of the Belgacom servers by the UK Secret Services GCHQ is still ongoing, Brussels has the honor to host Freedom Not Fear 2013. More relevant than ever since Edward Snowden revealed some of our government's dirtiest secrets, (h)activism, privacy protection and safeguarding civil rights are among the topics on the agenda of Freedom Not Fear 2013, the third edition of this growing conference on one of society's hottest topics at the moment.
Join the delegation of our fablab this weekend in the fight against goverment surveillance if you happen to be in Brussels, and participate in discussions yourself to contribute your point of view to the debate! Expect a large numer of interesting sessions that may radically alter your view on your government for years to come. We are all Anonymous. Hope to see you there!

-Yannick

2013-09-25 NIGHT OF THE RESEARCHERS
On September 26 and 27, the 8th European Night of the Researchers takes place, with this years theme "Living Longer with Science". The programme for the closest event location, at the Planetarium at Heizel, can be found here (in Dutch).

-Yannick

2013-09-22 PCB REFERENCE CARDS
Nothing is quite as frustrating as designing a circuit board, and noticing after it is manufactured that some traces are narrower than you expected, or that some holes are too small to fit the leads of the component(s) you wanted to install. Philip Peter solved this design issue with the design of a PCB reference card, visualizing the sizes of various common PCB elements, dummy footprints for common surface mount components, and probe holes from 0.35 mm to 2.2 mm. A mandatory tool for every PCB designer that will save tons of frustrations. Buy you own copy or download the production files to make your own in our fablab!

-Yannick

2013-09-20 TUTORIALS FOR DESIGNSPARK MECHANICAL
Following the success of their electronics design suite, DesignSpark released a new version of their DesignSpark Mechanical software along with a brand new set of tutorials to aid in the exploration of the software's features. Download your free copy of DesignSpark Mechanical and get started right away!

-Yannick

2013-09-13 ROBOTS COMBAT DRM
The battle for freedom of information has entered a new phase as LEGO Robots able to mechanically remove DRM protections are joining the fight. Designed by Assoc. prof. Peter Purgathofer of the Vienna University of Technology, the prototype scrolls through pages of e-readers and photographs them to allow further processing by OCR software. Watch their creation in action.

-Yannick

2013-09-13 3D PRINTING OPEN SOURCE ROBOTIC ARMS
The latest addition to the ever growing, nearly infinite list of possibilities created by 3D printing technology is the design of a 3D printed robotic hand. Completely open source, printed with a low cost 3D printer and actuated with off the shelf low cost DC motors, the project aims to reduce prices of prosthetic arms with a factor 100.


-Yannick

2013-09-1 INTEGRATION IN THE VUB
We are proud to announce that from October 1, 2013 our fablab will be partially integrated into the Vrije Universteit Brussel (VUB). A university with international recognition and appreciation despite its size, the VUB attracts domestic and international students with a wide variety of interests. We are looking forward to welcoming VUB students with a passion for engineering, hacking and making in our lab!

-Yannick

2013-08-01 IN THE PICTURE @ OHM2013
The Belgian Hackerspace Village has grown to a popular hangout for hackers, makers, hacktivists and prototypers. It currently also serves as the HQ for our mobile fablab! Our equipment has been featured by the NOS and nrc.nl (in Dutch).

-Yannick

2013-07-13 FABLAB @ OHM2013
A delegation of our fablab will join the Belgian Village at OHM2013 from 31 July to 4 August for five days of intensive hacking and prototyping amids 3,000 enthusiastic geeks, scientists, artists and alike! The number of participants is limited, so if you're planning on meeting us there, don't hesitate with getting your tickets.

-Yannick

2013-07-11 3D PRINTING EVENT 2013
From 21 October to 25 October 2013, the 3rd annual 3D Printing Event will be held in Eindhoven, The Netherlands. Sessions cover five days and are presented by experts in the field of 3D printing, targeted at hobby, industrial prototyping and education.

-Yannick

2013-06-26 PROTOTYPING EVENT 2013
An important aspect of our engagement to familiarize the industry with state of the art prototyping technology, Fablab Brussels was present at the 2013 Prototyping Event in BUDA::lab, Kortrijk. On display were, among others, the first successful attempts at vacuum forming in our lab!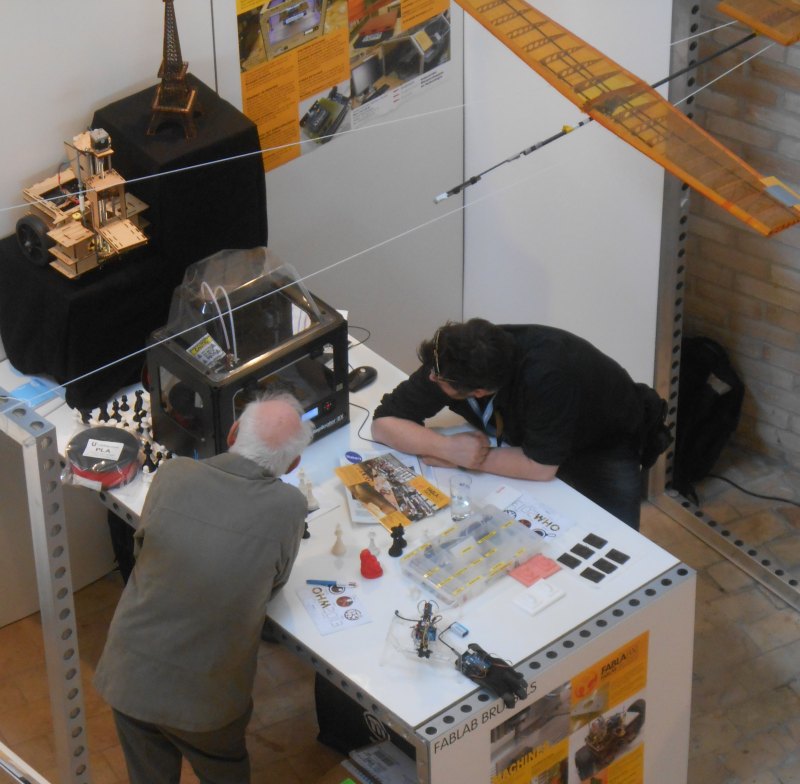 -Yannick

2013-06-24 INTRODUCING THE PROTOMAT S63
We are proud to present the latest addition to our fablab: a brand new LPKF Protomat S63 PCB milling machine!

Drop by in the lab to get acquainted with the machine and start right away with the tutorial for milling single sided circuit boards and prototype your own copy of the updated Arduino Uno XBee Shield.


-Yannick

2013-06-01 COFFEE ROBOTS SHOWDOWN
The 14 brave teams that took on the endeavor of building a robot capable of serving coffee, presented their creations during a final showdown of the Design Project. Take a minute to admire some of the submissions online.


-Yannick

2013-05-30 ANTWERP SECOND HUB FOR 3D-PRINTING
Antwerp has revealed a list of 16 locations (het Laatste Nieuws, in Dutch) within the city where consumers can print out their 3D models, making it the 2nd largest 3D printing hub in the world. Models can be printed starting at € 5 and counting € 0.40 per cm3.

-Yannick

2013-05-25 3D-PRINTER SAVES LIVES
Public awareness of 3D-printing technology in Belgium is steadily increasing, as more 3D-printing related news reaches national headlines. The news of a 3D-printer saving the life of a baby (Het Nieuwsblad, in Dutch) helps to counteract the negative weapons related issues that brought 3D-printers under attention in the past weeks.

-Yannick

2013-05-24 VAWTS MADE @ FABLAB BRUSSELS
Students 3rd Bachelor Electromechanics Ruben De Smet & Evert Van Geite have designed and manufactured scale models of Vertical Axis Wind Turbines (VAWT) in our fablab. Watch their achievements online to get a better impression of our lab's capabilities.

-Yannick

2013-05-23 FLYERS AVAILABLE ON REQUEST
Our brand new Fablab Brussels flyers have rolled off the press, and are available to high schools and academic institutions for distribution among their pupils and students.

Give us a call, let us know how many you'd like, and we'll send them to you a.s.a.p.! Alternatively, you can download the flyer directly from our website and print it out yourself.

-Yannick


2013-05-20 MAKING BOXES ON THE LASERCUTTER
Jelmer found this nice web app for making custom boxes on the lasercuttter: http://www.makercase.com/
-Lieven

2013-05-14 PLASTIC 3D-PRINTED GUN: CAN I MAKE ONE?
As lab managers we will tell you that we do not allow the manufacture of weapons in our lab, and that under Belgian law it is illegal to make a working firearm without proper licence.
As engineers we will tell you it is a stupid idea to use plastic to build a firearm.
You should instead train yourself to use our lathe and our CNC-mill, so you can make accurate parts in high tensile strength carbon steel.

We still will not let you build a weapon in our lab, but at least then you will know how to make more interesting things, like electric cars, windmills, and unbreakable cellphones.
2013-05-13 PLASTIC GUN
There has been a lot of noise around the 3D-printed plastic gun this week. I believe the American perspective is somewhat different than ours, adding to the complexity of responding to this issue.

Here is an article in de Volkskrant, (Dutch newspaper), I found pleasantly clear & well researched: http://www.volkskrant.nl/vk/nl/2694/Tech-Media/article/detail/3437776/2013/05/07/Mag-u-thuis-wapens-printen-6-vragen-over-3D-technologie.dhtml

-Lieven
2013-05-01 MORE NEW 3D-PRINTERS
We installed four Makerbot Replicator 2X machines, printing with ABS. The tutorials are yet to be updated, but the user interface is similar to the older machines.
2013-03-24 NEW 3D-PRINTER
We installed a third Makerbot. We now have a ABS-based Replicator1 and two PLA-printing Replicator2 machines. I have also updated the Makerbot tutorial, adding info on PLA vs ABS-plastic and a chapter on troubleshooting. I recommend you have a look, even if you are already familiar with the printers.
You can find the updated tutorial on the desk behind the Replicator1.

-Lieven